Founded in the year 1986 as NTP, an inbound tour company of India and Nepal by Mr.Hemant K Sharma and Mrs.Neelam Sharma & now trending as an online travel platform, the company grew and raised its status as a Public Limited in the year 2000 and has emerged as the "Experienced Inbound Tour Operators in India & Nepal".
Registered Name :
NTP TOURISM AFFAIRS LTD
Registeration No : 55-108208
CIN Number: U63040DL2000PLC108208l
TAN No: DELN03919G
Tourism License No: 2112261HC685
GST No: 07AABCN3802D1Z0
PAN No: AABCN3802D
The Delhi(India) & Kathmandu (Nepal) based company, with a strong presence in inbound travel trade and corporate segment, today has excelled its branches over Delhi, Mumbai, Jaipur, Haldwani, Dehradun, Srinagar, Dharchula, Madurai & Nepal. The company with its professionally managed travel engine specializes mainly in organizing Adventure, Pilgrimage, Cultural, Religious Circuits, hill station & wildlife tours in India and Nepal through a sprawling network. It offers 24 X 7 hours services that include travel planning, itinerary design, hotel bookings, ticket reservations and transport facilities. It mainly facilitates holiday packages, customized as per client's need and budget.
Why Us?
NTP Tourism Affairs Ltd. is an experienced travel organization with its tourism brands www.nepaltourism.ntpgroups.com (Inbound Nepal), www.indiatourism.ntpgroups.com, www.kailashyatra.ntpgroups.com, www.healthcare.ntpgroups.com and excels with quality services from its experienced staffs. Over the years the company has received positive feedbacks from its existing clients and hence one can expect a cordial reception as our entire focus is client service centric only.
Our Motto:
Customer satisfaction: This is our prime motto of our business, which has helped us to build a good network with travellers from the farthest corners of the world. The company today holds satisfied travelers and is still framing the travel diaries of fresh clients and would support the agenda God willing for many more years to come.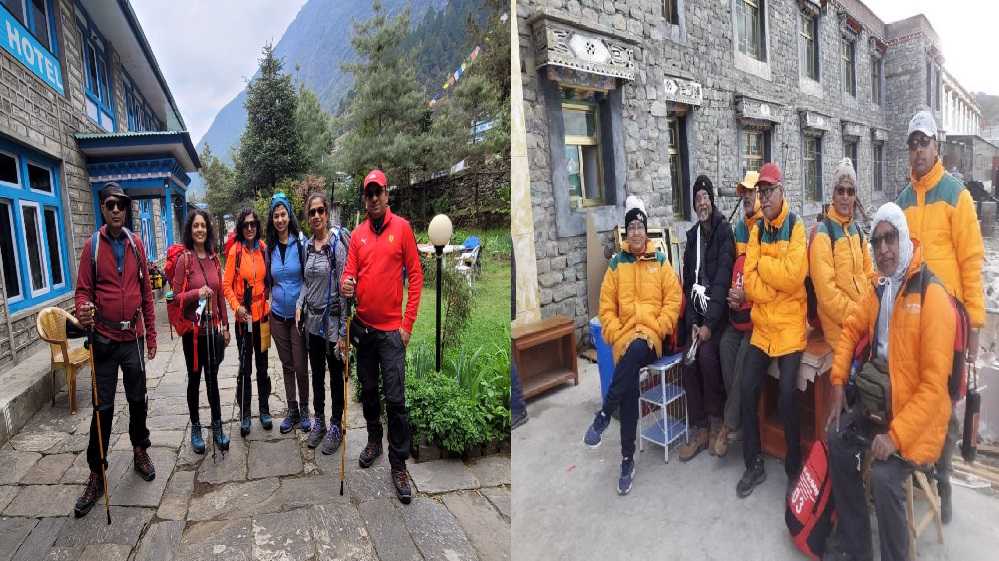 Quality services: Customer satisfaction can only be achieved by quality and time to time services. Knock us at any hour and from anywhere in the world, we are available. The company tries to give the ultimate satisfaction and luxury depending upon the traveller's need. Whether you are on a Pilgrimage tour in India or Nepal or tranquil Themed Holidays, we provide you a niche and satisfied tour along with certified guides. Further, the travel portal offers a wide range of services and specializes in providing tailor-made holidays and other travel needs to its valuable.

NTP Website and services
NTP Tourism Affairs Ltd. is an online travel platform where determination and commitment has always exceeded travelers' expectation. The platform provides information regarding all the destinations in India, from the remote lifestyle tucked in the Indian & Nepal Himalaya to the underwater coral life of Andaman and from the tribes of North East India to Maharaja Architecture & Culture of Rajasthan, Architectural Marvels of South India & Pilgrimages & Ritualistic Puja of India and Nepal.
The travel portal also includes a wide range of information on hotels and resorts in India, from budget to heritage and luxury, as well as it scrolls down to Trekking tour of India and Nepal, beach holidays, hill station tours, and adventure tours that include trekking, Pilgrimage tour, peak climbing, mountaineering, mountain biking and motor biking. Moreover, keeping in mind the need of leisure travellers, who seek to capture the rich heritage of India, the portal also, offers various heritage, cultural and pilgrimage. Medical tourism & healthcare service tours like yoga, meditation, Ayurveda with an Holistic approach like Stress management, Weight loss, Hair transplant dental tourism services, plastic surgery, heart etc focusing on vehicle, stay and ground support in India pre-post& During the treatment.
About the Services:
NTP Tourism Affairs Limited offers the following services:
What we do "our tours":
· Special Interest Journeys in India:
What we provide:
· Personalized assistance on arrival & departure.
· All sorts of transfer from car to coach in any city in India.
· Accommodation in all categories of hotels from budget to 5 Star hotels all over India.
· Multilingual guide services.
· Escort services.
· Medical Tourism Service India
· Sightseeing in comfortable chauffeur driver cars to coaches.
· Special cultural theme events if any
Now you can have a comfortable and hassle free holiday in India where in you leave all the worries to us. Right from the arrival at the airport to personalized assistance of departure, we take care of all the needs of the travellers. Our guests just sit back and enjoy their holidays with all the value for the money they have spent.
Authorization
NTP Tourism Affairs Ltd. is one of the leading tour operators and travel agents. The company also works in association with prime national agencies in the tourism industry such as Indian Association of Tour Operators (IATO) and Indian Mountaineering Foundation. These memberships are a proof of the credibility of our services in the business. We are associated with
Department of Tourism: It is the axis of tourism in India that formulates the rules and regulations and directs various central and state travel agencies and private sector tour operators to develop and promote tourism in our country.NTP is certified inbound tour operator with the License No.2112261HC685
Our Clients
We are here to render the best services to our clients who are part of our goal. Our clients, over the years, multiplied from small enterprises to Fortune 1500 companies that include both the private and public sector undertakings and thus leading us to spread all over the nation.
Testimonials
Travellers' feedbacks are our assets. It helps us to gain our confidence level and improve our services to meet every client needs. Click on our destination & Service links to browse for some of the feedbacks received from our clients